Local groups prosper thanks to the Westbrook Community Fund
11 November 2019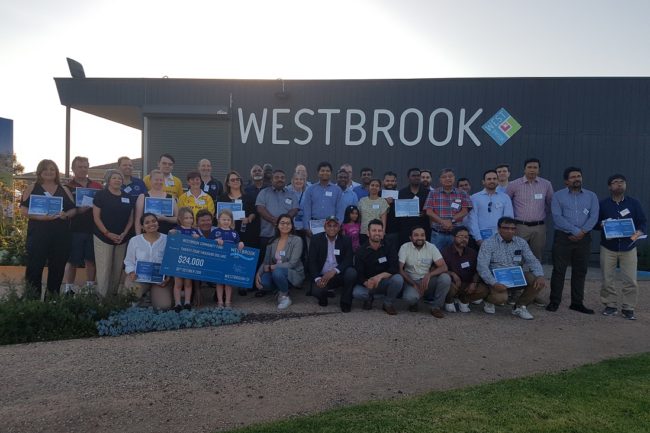 Eighteen happy community and not-for-profit groups from across the City of Wyndham receive grants totalling $24,000 at the second annual Westbrook Community Fund presentation evening.
Held at the Dennis Family Corporation's Westbrook estate in Truganina, Dennis Family Group Managing Director, Grant Dennis, was on hand to present cheques and congratulate each of the not-for-profit groups that successfully applied for funding, and he couldn't have been more delighted with the outcome.
"A vibrant healthy community takes more than bricks and mortar. It requires a range of services delivered by community groups and associations. But while the work done by these groups – and the contributions they make to local communities, is invaluable, it often goes unrecognised," he commented.
"Every year we allocate funding to assist a wide range of special activities and community programs, helping people of all ages. Over the years, we've provided grants to hundreds of different organisations to help make their projects possible.
"This is the second year the Westbrook Community Fund has been up and running and it's very satisfying for us to be able to provide financial support for the many worthy organisations in and around Truganina, Tarneit and Williams Landing where our Westbrook development is located."
Eligibility for funding extended to not-for-profit groups operating in the Truganina and Tarneit areas, with an independent judging panel allocating grants of either $1,000 or $1,500 to the organisations which were successful in their applications, including African-Australian Family and Parenting Support Services, Truganina South Primary School, Victorian Bangladeshi Community Foundation and various local sporting clubs amongst others.
One organisation that was successful this time round was the Truganina South Primary School. Representing the Primary School at the Presentation Evening, Alex Tardif, was thrilled to accept a cheque for $1,500 enabling the school to put funds towards acquiring a new playground shade installation.
"At the School Council for Truganina South Primary School, we're always looking for ways to protect our children, and we've been keen to install some shading in the playground for some time now. But with limited budgets, getting the project off the ground simply wouldn't have been possible without the support of the Westbrook Community Fund program. So we can't thank the Dennis Family Corporation enough for getting us started," he said.
More details on this year's presentations can be found on the Westbrook website at www.westbrookestate.com.au.